SpliceCom Maximiser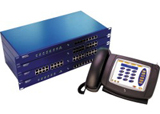 The innovative architecture utilised by the Maximiser business telephone system rips-up the rule book, delivering un-paralleled business advantages and customer service, while simultaneously freeing you from the burdens of cost and complexity associated with current voice solutions - whatever the size of your business.
The Maximiser is a brand new, next generation Business Telephone System. It has been conceived and designed at the beginning of the 21st Century to take advantage of powerful advances in recently proven architectures and technologies, along with current IT implementations and investments. It is not an evolution of a system produced in the past, which is typically challenged by previous design conventions in the field of business telephony. In the 'Time Poor but Information Rich' age of the 21st Century enormous productivity benefits accrue from the ability to deliver exactly the right information to the right people at the right time.
In its simplest form, the Maximiser is an innovative telephone system with sophisticated yet easy to use call handling facilities, ideal for the more demanding small business. Yet, even an entry-level Maximiser system can scale seamlessly, providing a fully networked communications system, allowing voice, data and web-enabled IT resources to share the same underlying network and information. With geographic boundaries no-longer posing limits, the Maximiser provides the flexibility to construct a single, unified business telephony solution from 8 up to 5,000 extensions, across multiple offices, whilst also allowing those working from home and mobile employees access to the same facilities as their office based colleagues.
The Maximiser's open architecture allows a wide range of telephones to be deployed at the desktop; analogue, caller display, hard and soft IP phones, DECT & Wireless IP phones are all supported. To compliment Maximiser's advanced capabilities SpliceCom have released the Proactive Communication Station (PCS), to deliver the ultimate in desktop productivity. PCS 400 provides all the facilities associated with a top of the range digital phone for making and receiving calls.
It then extends the control and information associated with these calls through an integrated, full-size VGA (Video Graphics Array), LCD touch screen, to provide context sensitive information. Graphical icons are used to control telephony functions in the same intuitive manner you associate with mobile phones. The PCS 400 screen can also have pages from web-enabled applications "pushed" to the screen and supports media streaming for video broadcasts.
Ring JET Communications today for a full demonstration of this unique product, the Maximiser truly is like nothing else on the market.
Download the maximiser Brochure PDF (3.10 MB)
Maximiser data sheet (325Kb)
PCS Data Sheet (347Kb)
System Features Data Sheet (210Kb)